Bandra Resident's Unique Tribute To The Mumbai Suburb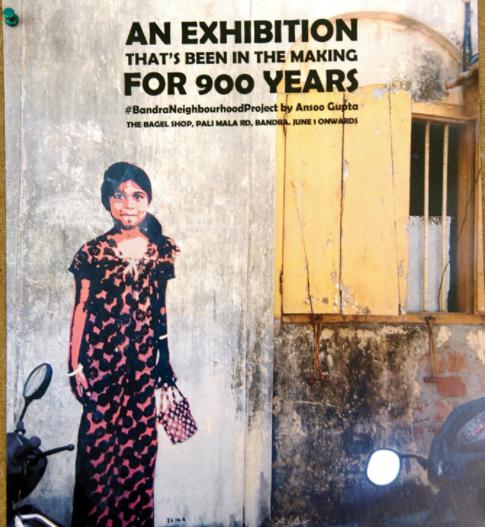 A Bandra Girl's Love For Her Suburb Led To An Online Project Called The Bandra Neighbourhood Project, A Photo Exhibition And A Heritage Walk That Will Take Place This Weekend
When we step into The Bagel Shop in Bandra, which re-opened after a month of renovation, we instantly spot framed photographs that line the interior and exterior walls of the space. These included prints of old bungalows that could easily pass off as scenes from a quaint street in Goa or Pondicherry. "These were captured in Bandra. In fact, that one is taken in the lane behind this eatery," says Ansoo Gupta, Founder of One Shoe Trust for Responsible & Mindful Travels, as she points out to a wooden framed photograph of a bungalow located at the edge of the Mala village.

The Bubble, one of the photographs from Gupta's collection, is a well-preserved bungalow inside St Anne's Church
Bandra calling
Originally from Noida, Gupta has been a resident of Bandra for over a decade now. Over the years, she has watched it change from an adolescent suburb with a slow, bohemian vibe to a rapidly urbanising city centre. "Travel always opens up your mind. When I started living in Bandra, I realised that this place has a lot of history. During my morning walks, I would spot old bungalows, chapels and small churches that had signboards dating to the 1920s. One such morning, I walked into a lane accidentally. It reminded me of villages in Europe, with no high rises. Since then, I began to read up about the history of Bandra from its Portuguese origins, and later, during the time when the British ruled here. I loved how different times influenced the culture," says Gupta, who has travelled to over 60 countries, and conducts travel workshops in the city to share tips and advice.

An old cottage behind The Bagel Shop at the edge of Mala village
Outside, we notice curious patrons gaze at the frames. "Anil Kably, the owner of The Bagel Shop told me I should do a coffee table book, and I laughed it off. These days, everyone is a photographer. I used my phone for these images. One day, he seriously suggested that I organise an exhibition after his establishment re-opened. It's not an exhibition of my photography skills but a passion for the place I live in. You can be a traveller in your own neighbourhood," she reminds us, sipping her latte.

This structure in Chimbai village has '1925' inscribed on top. This makes it almost a 100 years old but now it stands ignored. Pics/Ansoo Gupta
The real social network
According to Gupta her experience of walking in the inner lanes and villages like Chuim, Pali and Ranwar, transported her to an era back in time when life was simpler, and social networks meant congregating in the village square. "Instead of joining the gym, I decided to walk and discover a new lane every day. There were stories about Hill Road and Pali Hill. For instance, I wasn't aware that St Andrews' Church is older than the Taj Mahal. I found out that there were two crosses there, and wondered which one was older," she recounts The anecdotes roll out, "I also heard about how the churchyard would smell of fish in the old days, and how other churches were built around it as gentrified people didn't want to step in. I learnt that Dr Margaret Miranda (Bandra's popular physician) owns a house that is over 100 years old and maintains it. On Carter Road, there is a square right by the side of the sea that Christians and Hindus use for worship. But I realised all this after I had captured those photos," adds Gupta, who is also the COO of digital brands management firm, Pinstorm.

A poster of the photo exhibition
Milestones in Bandra
Gupta's project was to make people aware of their neighbourhood, and she intends to do the same with a one hour-30 minute walk that she will conduct this Sunday.

Ansoo Gupta. Pic/Sameer Markande
"Unless people are made aware of what's precious, will they be keen to protect it. I kept clicking pictures and uploading them on Facebook. I got a lot of comments from Bandra-ites and former residents. People liked the idea and wanted to know more so, I decided to conduct a walk to encourage people to look around. In Bandra, two worlds coexist. I'm not sure how long these will be around. It's my way of conserving moments of history," she signs off.
View The Neighbourhood Project Album: bit.ly/1r9y8Ld
Interviewed by Suprita Mitter for MID-DAY